Service life extension and repairs
In some processes, assets can be severely affected by excessive wear due to, for example, corrosive media, abrasion and erosion corrosion. Downtime, production losses and high costs for recovery are then the result. Many of these problems can be prevented (or considerably delayed) with a wear layer.
These wear layers have special properties and are able to withstand many extreme process conditions.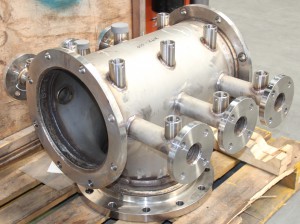 For example, for a chemical company in the Rotterdam Botlek area, the service life of a fluidized bed installation was extended by a factor of 5. Previously it was completely worn out after six months of use and therefore had to be replaced twice a year. After an analysis of the wear pattern, this installation was fitted with a thermally sprayed wear-resistant layer that is resistant to the highly corrosive conditions. With this layer, this installation can now produce continuously for 2½ years.
It also often happens that the choice of material for a component was incorrect. Sometimes the circumstances are more demanding than expected or sometimes the production processes are adjusted. Parts are then exposed to a different medium or wear form. With thermal spraying or laser cladding, these parts can be protected entirely or locally with a wear-resistant layer. This is especially often used with rotating equipment such as turbine rotors, pumps, gear shafts and rollers, but also with valves, crushers, mixers, burners and cyclones.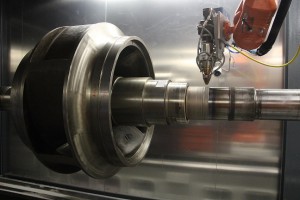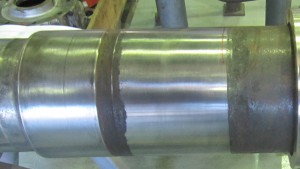 As an example, a steel (1,682) pump shaft that is used in a chemical environment in which the impeller and the wear sleeve are made of a corrosion-resistant base material. The medium finds its way between the wear sleeve and the impeller up to the shaft. An O-ring is mounted under the wear sleeve and this prevents the medium from moving further. The steel shaft is not resistant to the medium and corrodes. Over time, the corrosion under the o-ring continues and the pump is leaking. Because the shaft has been seriously damaged, only the replacement of the wear sleeve and seal is not an option.
Revamo has developed a corrosion-resistant coating together with the client. The choice takes into account the resistance to the acid environment and the sealing surface of the o-ring. This layer has been applied and finished by Revamo using laser cladding. This allowed the original pump shaft to be installed again. The corrosion resistance due to this local adaptation is comparable to a pump shaft made entirely of stainless steel and no concession has been made to the mechanical properties of the shaft.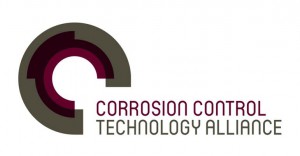 Corrosion Control Technology Centre
Contact: Frans van der Kolk
T. +31 (0)653206225
kolk@corrosioncontrol.nl