Corrosion control with dry air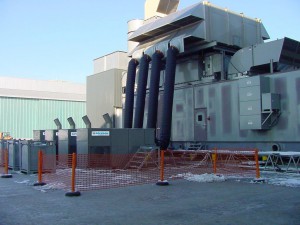 During industrial shut downs, construction, repair and maintenance in different industries like process industry, (petro)chemical and energy sector corrosion can be a very costly and time consuming problem.
By the varying outside temperature condensation will occur on the surfaces of tanks, piping and other plant parts. It is therefore essential that these components are well conditioned to limit corrosion.
By using dehumidifying equipment, Polygon brings the relative humidity to the optimal level, resulting in a corrosion stop securing quality and planning.
Coating
Storage, gas and oil tanks should be coated regularly. The size and the material of these tanks require high demands on the performance and availability of the equipment that is used for such projects. During the blasting and re-coating of plain/blank steel, the relative humidity must be lower than 40%, otherwise corrosion will appear which will reduce the quality and durability of the coating system.
Ships and bridges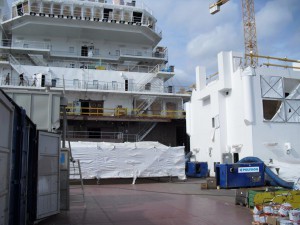 Also the complex constructions of ships and bridges require continuous protection and repair. The extreme environment require regular maintenance. An extra level of difficulty are the strongly varying temperatures and high air humidity which are characteristic for these objects.
To avoid corrosion and condensation during lay-up, construction, maintenance and repair, Polygon provides temporary dehumidification and temperature control. These services make it possible to carry out such projects throughout the year. As conditions and reliability remain unchanged, construction, repair and maintenance schedules can be maintained. This prevents an unrealistic time pressure and related additional costs.
Please visit our website for more information


Polygon Nederland:
J. Keplerweg 4 – 2408 AC Alphen aan den Rijn – Tel: 088 – 500 35 00
nederland@polygongroup.com – www.polygongroup.com/nl
Polygon België: Moerelei 127 – 2610 Wilrijk – Tel: 0800 – 96 600
be.tcs@polygongroup.com – www.polygongroup.com/nl-be